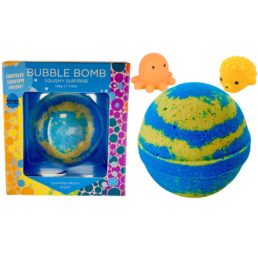 Squishy Surprise Bath Bomb
Squishy Surprise Bath Bomb
$7.99
The Squishy Toy Bubble Bath Bomb is here and is the perfect bath-time treat for the little one in your life.  It's also a treat for you too, Mom!  Your little one will now be asking YOU if they can take a bath!   Each Bubble Bath Bomb has a squishy toy surprise hidden inside, which will be revealed as the bath bomb fizzes, bubbles, scents, and colors your bath water.
Collect all 71 Squishies! Examples of Squishy surprises that might be inside:  
Woodland Animals, Zoo Animals, Sea Creatures, Dinosaurs, Penguins, Stars, Glitter Squishies and more!
In stock