Like everything 2020, Halloween won't be the same this year, but the Switch Witch has a plan to keep it fun. If you haven't yet encountered the Switch Witch, you're in for a treat (pun intended).
The Switch Witch tradition started as a way for parents to reduce the amount of candy sweets that their kids consume after Halloween. But you can't just take a kid's candy without replacing it with something equally awesome or even better, so the Switch Witch will do an exchange and replace some of the less desirable selections from your kids candy bag with a small toy or gift. This year, parents may want to quarantine their kids candy for a few days or replace the items that aren't bagged separately so that they can make sure treats are safe, and the Switch Witch might be a good way to get through that candy quarantine period with a little fun!
For years we've hooked the Switch Witch up with great, inexpensive options to replace kids candy and this year we're bringing those ideas to you here so you can shop online, curbside or pop into our stores with a mission! We're setting up a Switch Witch Suggestions table at each of our stores so you can easily choose from all our spooky options, or shop an assortment of our Halloween gift ideas online!
The bubble bath bombs from Two Sisters Spa have been a hot new item for us this year — it's an experience gift in a bubbly round package! Kids look forward to a citrus-scented bath time with these natural bath bombs. They are made with water-based color and fragrances and are designed for kids' sensitive skin. The best part though is that as they dissolve they reveal a little surprise toy! The Halloween bath bombs reveal a little Halloween squishy like a squishy ghost or candy corn. What a great way to end Halloween with a soothing and festive bath?!
Wally Crawlies
A bag of creepy little Wally Crawlies is only $3.99, and with dozens of crawlies in each bag, you'll have lots of fun! Our ninja and zombie wally crawlies from Schylling are sticky enough to stay on your wall or window (really any flat vertical surface–we've used them on our fridge as well) and then gradually flip down the wall in a very realistic and creepy way. The ninjas look like they're sneaking down your wall, and the zombies do their zombie thing with amazing movement. Our 5 and 7 year-old boys love these!
Give your kiddos a Scooby Doo-style mystery to solve with one of these awesome new blind bags from Playmobil. Blind bags have one of several options inside, and you don't know who you're going to get until you open them. These have been a tremendously popular choice for kids with pocket money and as stocking stuffers for several years now. If Playmobil isn't your thing, we also have LEGO Harry Potter blind bags and Calico Critters!
Spider Scrunchies from Great Pretenders
Add some spooky Halloween flair to your October style with one of these cute Halloween scrunchies from Great Pretenders. They come in orange with a spider or purple with sparkly bat wings, and they are only $1.99 each!
Candy-Inspired Matchbox Cars
This year Matchbox released a collection of cute candy-themed Matchbox cars with branding from all the favorite Halloween candy companies like Tootsie Pops, Dots, Charms and Junior Mints. No sweet tooth required to enjoy these!
These irresistibly cute little gel pens have spinning tops sweet little faces, and they write beautifully!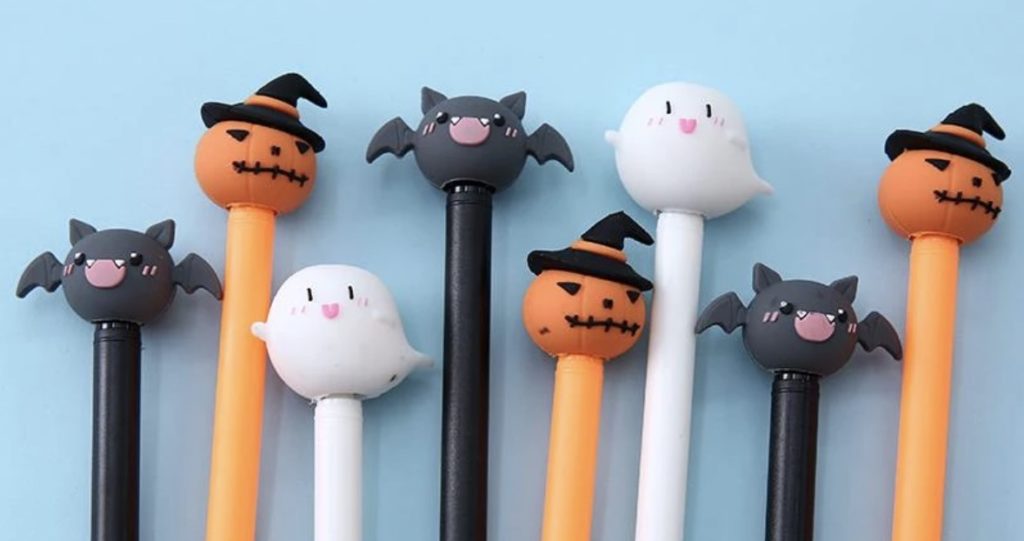 Halloween Plush
You can do no wrong with a soft and snuggly plush, and we have so many cute ones! From our Freeport 'Owlery' to our Spunky with bat ears from Douglas Cuddle Toys, we have so many sweet (or spooky) friends to fill a Switch Witch bucket. This silky-soft plush spider will be a Charlotte-lover's best friend!
Whether Trick-or-Treating happens this year or not, we're here with lots of options to help make sure it's a fun evening for the kids. Stop by one of our stores and our Switch Witch experts are happy to help with these ideas and more. We wish you a happy and safe Halloween!