The signs are all around us. An abundance of selfies captioned with #sweaterweather. Trips to the pick-your-own apple orchard have replaced trips to the beach. And Pumpkin Spice everything is everywhere. No matter how much we all want to cling to the fading days of summer, there's no denying it – fall is here. Which means winter, and the holiday season, is right around the corner.
You know what that means. It's time to make a list and check it twice.
But before we talk about the hottest toys of 2020, we need to address the elephant in the room.
This holiday season is going to be unlike any other.
We have no idea what December is going to look like. That's why this year, more than ever before, it's crucial to start prepping for the holidays early.
At Island Treasure Toys, we're parents and grandparents, and we're facing the same challenges that you are. Nothing makes us happier than helping you find the perfect toy for the kiddo in your life, and that's exactly what our gift guides are designed to do.
How do the Holiday 2020 Gift Guides work?
Every week for the next few months, we'll be releasing a new gift guide designed to help you find the perfect gift for everyone on your list. From artistic to active, tweens & teens to the kid who has everything, and everyone in between, we've got you covered with our picks for the best toys of 2020.
We're kicking things off with our Ultimate Gift Guide, which highlights our top picks in seven different categories:
Artistic & Crafty
Imaginative Play
Educational
Tweens & Teens
Each category will also have its own gift guide with even more ideas to help you find the perfect gifts for the kids in your life.
(Don't forget – we'll be releasing a new gift guide every week over the next seven weeks. This post will be updated every time a new list is released, so make sure to bookmark this page and check back frequently!)
Budget Buys & Grammy's Gold Stars
Hey! What are those bold labels underneath some of the gifts?
We're glad you asked!
Every toy in our holiday 2020 gift guides is a winner, but we want to highlight gifts that fall into two special categories.
Budget Buys are great, high-quality toys that won't break the bank. Each of these picks is $20 or less.
Grammy's Gold Stars are extra-special gifts loved by kids, parents, and grandparents alike because they're super fun and offer hours of screen-free entertainment. These are gifts with a little bit of extra wow! factor.
Every gift guide will include at least one Budget Buy and Grammy's Gold Star. Make sure you keep your eyes open for them!
And now, without further ado, let's get to it! Island Treasure Toys is proud to present your guide to the very best toys of 2020.
dëna My First Rainbow
$24.99 | Ages 0+ | Buy It Now link coming soon!
The classic Waldorf stacking rainbow gets a modern day glow up! This timeless, minimalist toy is reimagined in food-grade platinum silicone. It's soft enough to be safe for baby from day one, while also being strong enough to be dishwasher safe (always a plus when it comes to infant toys). My First Rainbow is also:
BPA free
Hypoallergenic
Bacteria resistant
Teething, stacking, color recognition, building – the possibilities are endless! This is a toy that will grow with your little one, providing years of exploration and open-ended play.
SmartMax My First Vehicles
$24.99 | Ages 1-5 years | Buy It Now link coming soon!
Part building kit, part intro to STEM, all fun! We're huge fans of SmartMax, and the newest addition to their "My First" collection is no exception.
These buildable, interchangeable magnetic vehicles will spark your kiddo's imagination and inspire them to actually play on their own.
Want to build a fire engine with a dump truck on the back? Go for it! An extra-long cement mixer? Absolutely!
The best part? You can combine them with other SmartMax building sets for even more creative fun!
GRAMMY'S GOLD STAR | $99.99 | Ages 5+ | Buy It Now!
Season 12 of American Ninja Warrior premiered at the beginning of this month and kids everywhere are itching to prove they've got what it takes to be the Last Ninja Standing.
Take their training (and their energy!) outdoors with the Slackers Ninjaline! All you need is two trees or posts to create your very own Ninja Warrior training gym in your backyard.
The 36' Ninjaline – which does double-duty as a slackline – comes with 7 hanging obstacles and a storage bag for easy transportation. The 14 double-sewn pockets allow you to customize your course and add extra obstacles for an even greater challenge!
Make it extra-special: Add a touch of authenticity with the Slackers Ninja Timer! Featuring a big red button, satisfying buzzer noise, and a large display that clearly shows your best time.  Buy It Now for $25.99 – link coming soon!
$26.99 | Ages 6+ | Buy It Now!
All the fun of Laser X, now in a more compact size! This set comes with everything you need to outfit two players for a real-life laser gaming experience. All Laser X equipment works together, so you can get the whole neighborhood in on the action. After all, it's easy to social distance when your blaster has a 100' range!
Best Artistic & Crafty Gifts
$30.99 | Ages 8+ | Buy It Now!
With the Loopdedoo, making friendship bracelets has never been easier (or more fun)! This unique spinning loom – which comes with 18 skeins of high quality 100% cotton embroidery thread – will give your creative kiddo the freedom to design jewelry that fits their personality and style.
Bonus: Making and sending friendship bracelets through the mail is a great way to keep your child connected to the people they might be missing during this time of social distancing.
BUDGET BUY! | $19.99 | Ages 6+ | Buy It Now!
Bring a little personality and a whole lot of fun to your child's remote learning space with the LEGO DOTS Desk Organizer.
LEGO DOTS are new for 2020, and it would be fair to say that we're obsessed with them. We love that this gift combines function – it's a real desk organizer with two sections for holding supplies, a working drawer, and a photo holder – with fun! Kids have the freedom to decorate their desk organizer however they want and redesign it as often as they'd like.
Make it extra-special: Snag a package of Extra DOTS to give the gift of even more possibilities. Buy It Now for $3.99!
Best Gifts for Imaginative Play
Little Adventures Galactic Warrior Cloak
$25.99 | Ages 3-7 (Size M fits 3-5, Size L fits 5-7) | Buy It Now link coming soon!
Your little one might not be quite ready to make the Kessel run in less than 12 parsecs (yet), but that doesn't mean they can't set off on a galactic quest to save the universe!
Not only are they totally adorable, but all of Little Adventures' dress-up costumes are also comfortable and machine washable. That makes them a winner in our book!
Make it extra-special: Every Galactic Warrior needs a Galactic Laser Weapon! Made of sturdy, durable foam for hours of safe play. Buy It Now for $10.99 – link coming soon!
GRAMMY'S GOLD STAR! | $149.99 | Ages 3+ | Buy It Now!
The dollhouse. It's a classic. It's the perfect canvas for hours of imaginative play.
And this charming country cottage? Well, it might just be the cutest wooden dollhouse we've ever seen.
Adding to the charm is a full set of furniture with a retro-inspired feel. Does it get any better than that?
(The answer is no. No, it does not.)
Best Educational Gifts
GRAMMY'S GOLD STAR! | $59.99 | Ages 6+ | Buy It Now!
There are countless reasons why we're obsessed with the Rock N Roll It! Rainbow Piano, but for the sake of brevity we'll give you our top three.
It takes up virtually no space! This 49-key keyboard can be rolled up and tucked away when not in use. No fuss, no muss.
It's 100% portable! The Rainbow Piano is compact enough to fit in a backpack or purse and can run on battery power or be plugged in with the included USB cord.
It actually teaches your child to read and play music! The unique play-by-color songbook will have beginners playing basic songs in no time.
The Rock N Roll It! Rainbow Piano sold out last holiday season, so be sure to grab yours ASAP!
Thames & Kosmos Mega Cyborg Hand
$40.99 | Ages 7+ | Buy It Now link coming soon!
Discover the power of hydraulics this holiday season! With this kit from Thames & Kosmos, budding scientists will build their own giant (16"!) hydraulic cyborg hand and learn how pneumatic and hydraulic systems are used in industrial robots to enable them to manipulate heavy objects.
Best Holiday Gifts for Tweens & Teens
LEGO Hogwarts Astronomy Tower
GRAMMY'S GOLD STAR! | $99.99 | Ages 9+ | Buy It Now link coming soon!
Young Harry Potter fans can visit the greenhouse (be careful – Professor Sprout's growing mandrakes!), Professor Slughorn's classroom, the Ravenclaw Dormitory, and the iconic Astronomy Tower in this newly released LEGO set, loosely based on Harry Potter and the Half-Blood Prince.
This magical set includes 8 minifigures (Harry Potter, Hermione Granger, Horace Slughorn, Luna Lovegood, Neville Longbottom, Ron Weasley, Lavender Brown, and Draco Malfoy) and is sure to inspire hours of imaginative play.
Make it extra-special: You can never have too many characters for creative play! Add a LEGO Harry Potter Collectible Minifigure (Series 2). There are 16 different characters to collect, and each bag is a surprise! Buy It Now for $4.99 – link coming soon!
Lava Lamp in Star Vortex
$28.99 | Ages 8+ | Buy It Now link coming soon!
Lava Lamps are cool. Always have been, always will be.
The Star Vortex is no different. With star-shaped glitter and phasing green, blue, and purple LED lights that mimic the colors of the galaxy, this Lava Lamp will add a relaxing ambiance to any room.
GRAMMY'S GOLD STAR! | $49.99 | Ages 3+ | Buy It Now!
Have a kiddo on your list who's hard to shop for? Look no further than the AirFort!
Don't believe us? Here are the top three reasons you need an AirFort in your life.
Set-up and take-down are a piece of cake. Just attach a box fan and it inflates within 30 seconds. When it's time to clean up simply turn off the fan and store the deflated fort in the included matching carrying bag.
At over six feet wide and four feet tall, there's room for the whole family! There's no floor, so it's super easy to crawl in and out.
The stars on the roof glow in the dark. They glow. In. The. Dark.
GRAMMY'S GOLD STAR! | $99.99 | Ages 8+ | Buy It Now in Blue, Red, or Green!
How many kids do you know who own a steel tongue drum?
We'd be willing to bet you can count the number on one hand. Maybe less.
This unique gift will delight any music lover. It's genuinely fun to play, whether you're following along with sheet music or just noodling around, trying to figure out how to play your favorite song. It comes with two mallets and a padded, zippered carry bag for musical fun on the go!
Wild Card Gifts!
We know, we know. We promised seven categories and you got seven categories.
The thing is, at Island Treasure Toys, we like to overdeliver whenever we can. That's why we're including these two wild card gifts in our Ultimate 2020 Holiday Gift Guide! They don't quite fit into any of the other categories, but they're both too awesome to not include them.
Tonies Starter Set in Red
GRAMMY'S GOLD STAR! | $140.99 | Ages 3+ | Buy It Now link coming soon!
Think of Tonies as audiobooks for your kids, but better. The Toniebox is a kid-friendly, screen-free, portable, audio system that even the youngest children can operate. Each hand-painted Tonie character is a fun-filled audio adventure just waiting to be brought to life by your child's imagination.
The Tonie starter set includes a Toniebox and a Creative-Tonie. Creative-Tonies are Tonies you can personalize by uploading any audio you'd like.
Maybe you'll upload a recording of grandpa reading your child's favorite bedtime story. Or mama singing a special lullaby. Whatever you choose, it's sure to be a magical experience
$41.99 | Ages 3+ | Buy It Now!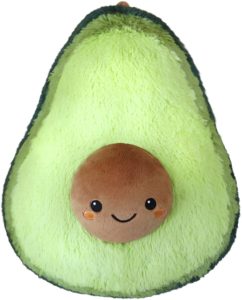 Nothing says "Wild Card" quite like a 15" tall squishy avocado plush.
Besides, look at its little face. It's adorable!
Your Guide to the Best Toys and Gifts of 2020
And there you have it! Our overview of the very best toys and gifts for the 2020 holiday season.
Remember – we'll be publishing a new holiday gift guide every week for the next seven weeks. Make sure you like and follow us on Facebook and Instagram to get notifications when we publish new guides!