Creative kids are so much fun to shop for. There are so many great options out there, and it's hard to go wrong.
Sometimes, though, having too many choices can be a bit overwhelming.
That's why we put together this gift guide for you! We've picked out some of our favorite products for little kiddos with big imaginations. These picks are new, a little different, and guaranteed to be a big hit!
Best Holiday Gifts for Imaginative Play
BUDGET BUY! | $19.99 | Ages 3+ | Buy It Now!
We don't know exactly why dressing up carbohydrates with goofy faces is so much fun, but it totally is.
This bowl of bendable noodles gives young chefs the freedom to noodle around (see what we did there?) and create gourmet meals, kooky faces, or (our favorite) gourmet meals with kooky faces!
GRAMMY'S GOLD STAR! | $149.99 | Ages 3+ | Buy It Now!
The dollhouse. It's a classic. It's the perfect canvas for hours of imaginative play.
And this charming country cottage? Well, it might just be the cutest wooden dollhouse we've ever seen.
Adding to the charm is a full set of furniture with a retro-inspired feel. Does it get any better than that?
(The answer is no. No, it does not.)
$29.95 | Ages 3+ | Buy It Now!
These unique playsets from Storytime Toys are part 3-D puzzle, part dollhouse, and all fun! Featuring familiar stories and exquisite details, these sets include everything the kiddo in your life needs for hours of screen-free imaginative play.
Start by enjoying a familiar story – either Hansel & Gretel or Goldilocks – from the included picture book. Then bring the story to life by building the playset and reenacting favorite scenes from the book or creating new adventures for favorite characters!
However they choose to play, this is a toy that is sure to be a favorite for years to come.
$49.99 | Ages 3+ | Buy It Now!
There is so much to love about the Slice & Stack Sandwich Counter. Here are our top three reasons why this is a must-have for the aspiring young chef in your life.
It's got a meat and cheese slicer just like a real deli! Well, maybe not

just

like a real deli – that wouldn't be safe. But it does have a

wooden

meat and cheese slicer, which we think is pretty cool.

Your little restauranteur will have everything they need to serve up full meals including sandwich fixings, chips, a cookie, and a drink!

Little ones will develop fine motor, counting, sorting, and storytelling skills through play.
GRAMMY'S GOLD STAR! | $99.99 | Ages 3+ | Buy It Now!
For the kiddo who loves their babies, there's no better gift than the Deluxe Baby Care Play Set. It comes with everything they need to feed, change, bathe, and cuddle their favorite dolls.
Bathtub? Check.
Three different flavors of baby food? Check.
Diaper ointment and baby lotion? Check and check.
It's seriously got everything! Now if only they made these for real babies…
$27.99 | Ages 3-8 | Buy It Now!
Sometimes, little ones want to be just like their favorite grown-up. Invite the kiddo in your life to join in with your morning routine with this precious wooden shaving set.
The seven-piece set – adorably packaged in a blue cloth ditty bag – comes with everything kids need to make themselves dapper.
Is the little one in your life more interested in makeup than shaving? Don't worry – we've got them covered, too! Little Miss Vanity Case, $29.99.
BUDGET BUY! | $19.99 | Ages 3+ | Buy It Now!
What's better than one perfectly portable magnetic dress-up doll?
A set of two perfectly portable magnetic dress-up dolls!
Get these best friends ready for the day with more than 50 magnetic clothing and accessory pieces, and then they're ready to play or display! Available in Superheroes, Best Friends, and Fairytale Friends, so there's something for everyone.
$54.99 | Ages 3-7 years | Buy It Now!
Vroom vroom vroom! Give the speed racer in your life what they really want this holiday season – their very own set of wheels!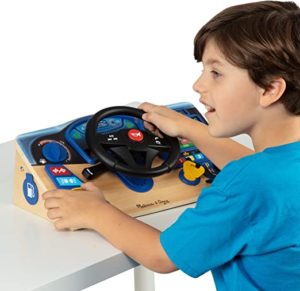 They might not be able to actually be able to take their new ride out on the road but with true-to-life details like an interactive GPS and movable parts and buttons, they won't mind one bit.
$25.99 | Ages 3-7 (Size M fits 3-5, Size L fits 5-7) | Buy It Now!
Your little one might not be quite ready to make the Kessel run in less than 12 parsecs (yet), but that doesn't mean they can't set off on a galactic quest to save the universe!
Not only are they totally adorable, but all of Little Adventures' dress-up costumes are also comfortable and machine washable. That makes them a winner in our book!
Make it extra-special: Every Galactic Warrior needs a Galactic Laser Weapon! Made of sturdy, durable foam for hours of safe play. But It Now for $10.99!
GRAMMY'S GOLD STAR! | $118.99 | Ages 4+ | Buy It Now!
We love every vehicle Bruder makes, but we think this one is extra special. Even kiddos with a veritable fleet of vehicles aren't likely to have this snowcat! This 1:16 model is exquisitely crafted with the exceptional details you expect from Bruder.
Your Guide to the Best Gifts for Imaginative Play
And there you have it! We've given you our top 10 picks for inspiring imaginative play. Hopefully, this gift guide has inspired you to get a jump on your holiday shopping!
Need even more gift recommendations? We love playing personal shopper! Visit one of our stores in Yarmouth, Freeport, or Bath, or send us a message on Facebook or Instagram.